Terms apply to American Express benefits and offers. Enrollment may be required for select American Express benefits and offers. Visit americanexpress.com to learn more.

Black Friday 2022 is here. And with travel back in full swing after a few tough years, companies are out with their usual dizzying array of promotions and discounts.
Airlines are out with some solid discounts on fares from the U.S., whether you're looking to fly domestically or jet off worldwide. You can snag some solid discounts on hotel stays and gift cards, too.
But beware: Just because it's Black Friday doesn't mean you're getting the best deal possible – Black Friday flight deals are more marketing gimmick than reality. You can find dirt-cheap flights any day of the year – and the best deals are rarely advertised through big discounts or promotions like this.
So check out some these deals, but do your homework, too. This list is sure to grow, so be sure to circle back throughout the day!
 
Airfare Deals
Aer Lingus
Ireland's Aer Lingus is cutting prices on select flights across the pond to mark the occasion, with $100 discounts on roundtrip economy fares to both Dublin (DUB) as well as Shannon (SNN).
You'll find these discounted rates from a handful of Aer Lingus routes from the U.S. The lower pricing is already reflected on what you find through Aer Lingus – or even by searching with Google Flights.
With those discounts, that means roundtrip flights to Dublin as low as $350 roundtrip in economy.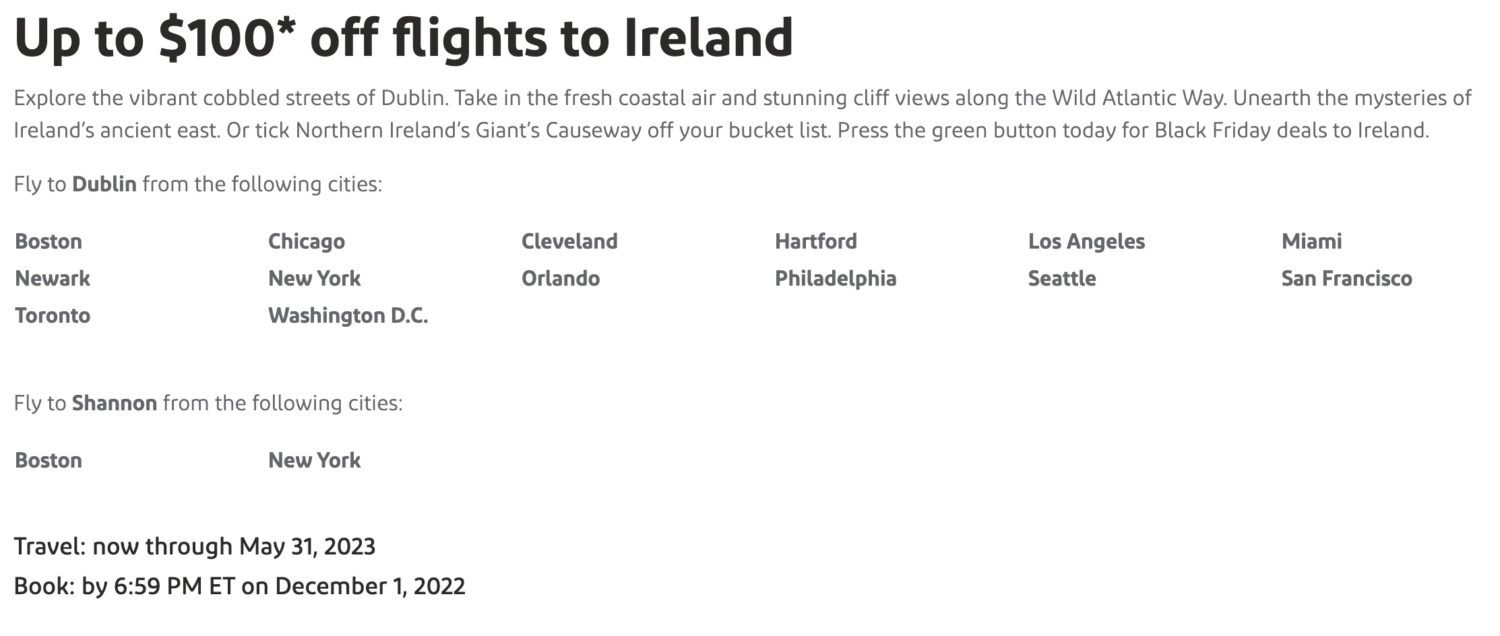 These savings are available on flights through May 31, 2023. But you have to book by next Thursday, Dec. 1 at 6:59 p.m. EST to get these rates.
Check it out on the Aer Lingus site.
Alaska Airlines
Alaska dropped some rock-bottom prices on flights to Hawaii with a 30% discount, bringing one-way fares as low as $98.
Alaska is offering 30% off select fares to Hawaii with the promo code ALOHA30. The cheapest prices are Alaska basic economy – the airline calls them "Saver fares." And they're only available over a narrow window: On Mondays through Thursdays from Jan. 10 through Feb. 15.
If you can make that work for a trip to Hawaii, great! If not, Alaska says you can save 10% on any flight today.
 
But act fast: This sale ends tonight, Nov. 25 at 11:59 p.m. PST.
See all the details on Alaska's website.
 
Avianca LifeMiles
It may not be a Black Friday promotion, per se … but it could be a great deal nonetheless.
Avianca LifeMiles is an underrated airline mileage program and one of the few where it can make sense to buy miles in bulk. And that's especially true when LifeMiles offers a bonus this big: Up to 170% bonus miles when you buy 51,000 LifeMiles or more.
That's one of the biggest bonuses we've seen when buying LifeMiles to date, and it can be extremely lucrative – but only if you do your homework. You'll need to register for this promotion via One Mile at a Time first, then you should see the bonuses reflected when you go to purchase LifeMiles.
 

With a 170% bonus, buying 51,000 miles (for $1,683) would net you a grand total 137,700 Avianca LifeMiles. That works out to 1.2 cents apiece, which is about as good as it gets when you can redeem these miles for Lufthansa First Class, EVA Air business class, and many more.
Cathay Pacific
One of the world's best airlines is getting into the flight deal action for Black Friday again.
Hong Kong's Cathay Pacific is touting flights from the U.S. to several Asian destinations starting under $700 roundtrip, including the Philippines, Taiwan, Indonesia, and Singapore. There are also some decent savings on Premium Economy and Cathay Pacific business class tickets, though they're nowhere near as cheap.
 
Flights are bookable now through Nov. 28 at 11:59 p.m. PST at these rates, or while supplies last. Travel from Jan. 1 through May 23 and again from Aug. 15 through Oct. 28 qualifies for these lower prices.
Keep in mind: Asia is practically wide-open for travel again.
Check out the details of its sale on Cathay Pacific's Black Friday page.
Delta
Delta is getting in on the shopping season action, too. And it's a mixed bag.
You'll find plenty of fares already available on Black Friday "Sun and Fun" Flight Deals page, with results tailored to your home airport. There are some decent deals whether you're using cash or Delta SkyMiles.
But Delta has another promo that's worth considering: You can earn 4x SkyMiles when buying a Delta gift card of $250 or more!
 

That could easily be worth it if you're planning to book Delta flights in the near future – or not so near future, as these gift card never expire. A $500 gift card would earn you 2,000 extra Delta SkyMiles. Just keep in mind it may take 14 days for those bonus miles to hit your account, and you won't be able to use the gift card until 72 hours after purchase.
You can buy gift cards for yourself or as a gift for your favorite traveler to earn some bonus miles.
Head to Delta's page to buy gift cards
Icelandair
Icelandair is reliably one of the cheapest ways to get to Reykjavik (KEF) or almost anywhere in Europe. The airline is advertising some decent discounts that could make it even cheaper.
Head to Icelandair's dedicated Black Friday sale page to check out what you can book from cities like Minneapolis-St. Paul (MSP), Boston (BOS), Chicago-O'Hare (ORD), New York City (JFK), Denver (DEN), and many more. We're seeing roundtrip fares to almost anywhere in Europe under $400 from many cities.
Or you can even score a roomy Icelandair Saga Premium seat for under $1,000 roundtrip.
 

You can travel from Jan. 6 through April 30 next year at these prices from most cities aside from Detroit, which sees great deals all spring, summer, and into the fall of 2023. But you'll need to book by midnight local time on Sunday, Nov. 27 to get these prices.
Head to Icelandair's sale page for more info!
Qatar Airways
Qatar Airways is getting in on the Black Friday action once again with promo codes for some decent savings.
The world's reigning best airline has set up a special Black Friday sale page, advertising roundtrip economy fares from the U.S. to destinations around the world for $200 off – or $350 off fares in the airline's outstanding Qsuites business class. Book by Nov. 30 for a trip from Jan. 11 through May 14, 2022.
 
These aren't the biggest savings we've ever seen, but it could make sense. Qatar says these discounts only last when you book by Saturday, Nov. 26 – and for travel from Dec. 26, 2022 through Oct. 31, 2023.
Check out Qatar's dedicated sale page!
 
Singapore Airlines
Singapore has a treat for Black Friday shoppers.
The airline has slashed prices on its stellar premium economy seats as low as $1,029 roundtrip from New York City (JFK) to destinations like Bali (DPS) or Kuala Lumpur (KUL). There are good deals on economy and even Singapore business class from several U.S. cities and even Vancouver (YVR), too.
 
These deals are available all the way through Nov. 29, so you've got a few days to decide. If you've got an Amex card like The Platinum Card® from American Express or the American Express Gold Card®, be sure to check for an Amex offer to save $300 on purchases of $1,500 or more.
Check out what you can find on the Singapore Airlines sale page.
 
TAP Air Portugal
Portugal's flag carrier has cemented its place as one of the cheapest ways to get to Europe. But it doesn't get much cheaper than this.
The airline is advertising sub-$300 roundtrip fares from across the U.S. to destinations all over Europe. Want to fly business class instead? No problem: You can find fares for a trip in 2023 for as low as $1,700 in TAP Air business class. That's a pretty great deal.
 

You'll have to book by Monday, Nov. 28 to get these low rates. And while TAP's reputation isn't the best – especially on the customer service front – we've found it's a nice experience no matter whether you're flying a cheap economy fare or up in business class.
 
Hotels
Fairmont Hotels
From New York City to the banks of Lake Louise, Fairmont operates some of the nicest properties in North America.
The company is offering up to 25% off paid rates for stays through June 30, 2023. You'll need to book by Nov. 29 for these savings.
 
Check out the deals on their dedicated Black Friday page.
Hyatt
It's not exactly a Black Friday sale, but it's still spectacular.
Using promo code UNLOCK, you can get 20% off paid rates at more than 950 Hyatt properties worldwide. These savings are valid on bookings through April 30, 2023 – but you have to book by Nov. 30 to save.

Head to Hyatt's dedicated sale page for more information!
 
IHG Hotels
The hotel company behind brands like Intercontinental, Crowne Plaza, and Holiday Express is bringing some big savings to Black Friday.
IHG says you can save 10% on "Advance Saver" and "Book Early and Save" rates for Black Friday and Cyber Monday – but in reality, you've got until Dec. 2 to book for these savings. Plus, you can earn 1,000 free IHG Rewards points for downloading the IHG app and signing in.
 
Check out all the details on the IHG sale page.