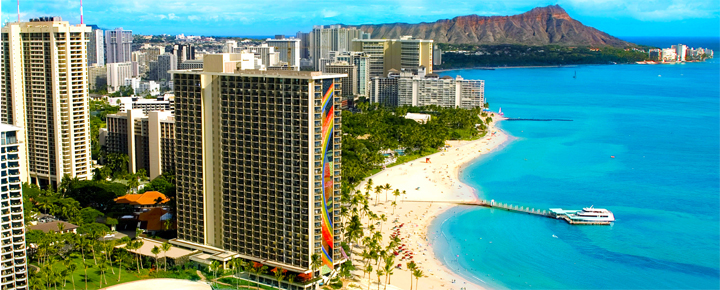 Costco Travel has a range of offerings that are worth checking into for a Hawaii vacation. While we reported the savings at Costco Gas in Hawaii were less than expected, the same is not true with their travel program. Costco Travel sells Hawaii vacation packages, hotels, and car rentals. So just how well does this work on saving you money when planning a Hawaii vacation?
Who doesn't like a deal, especially a Hawaii travel deal. In theory, Costco uses its bulk buying power we're all familiar with at its warehouses to offer deals better than can be obtained in retail. We decided to do a price comparison of some Costco Hawaii Travel offers and see how well they fared. The results were very interesting.
In addition to the price comparison, we gleaned a lot from the exercise, which may be helpful in your Hawaii vacation planning. Let's start there.
Who is Costco Travel

? It is a true division of Costco, rather than a third party. You may be familiar with the airlines' vacation packages, and those are different. For example, a travel agency owns Southwest Vacations. "Southwest Vacations is the leisure vacation package product for Southwest Airlines and is operated by ALG Vacations Corp." The same is true of virtually all airline vacation packaging. But not so with Costco. Costco says, "Costco Travel is a division of Costco Wholesale headquartered in Issaquah, Washington." The people you deal with there are actual Costco employees.

How to use Costco Travel

. You start by choosing your Hawaii destination, and you can be as specific as you'd like. Then enter travel dates and get to the first question, which is whether or not you want to include flights. You will be presented with their offers sorted by lowest priced first. Each comes with a preview from which you can drill down. As you go through the process, you'll also be offered airport transfers and car rentals, in addition to choosing your specific accommodation. Each choice updates the total price and total amount due to reserve, shown in the upper right.

What kinds of offers are and aren't included in Costco's Hawaii travel

. The range of hotels was quite large, from modest to luxury, and everywhere in between. There are many choices. What isn't included, however, and this is big, are most Hawaii vacation rentals. Those are incredibly popular for a variety of reasons including location and amenities. When it comes to accommodations with kitchens, however, we did find a number of those listed on Costco Travel.

Should you include Hawaii airfare in your package?

Our opinion is definitely not, and for these multiple reasons. First, airfares change up to 5 times daily, and Costco Travel can't keep pace with that. Also, airlines aren't going to give Costco a better price than they do you; it just doesn't work that way in air travel, and hasn't for years. Also, in our current situation of Hawaii flight delays and cancelations, you'll want to have a direct relationship with the airline just in case you run into trouble and need to change anything. Lastly, should you want to make changes or try upgrading, you may only be able to do those when booking directly with the airline.
Sample Hawaii Costco Travel Savings.
For our trip plans used to compare prices, we chose the travel dates of September 14–21, 2022. We selected two guests, and the lowest priced accommodation (garden or interior view). We selected compact as the type of rental car.
1. Hilton Hawaiian Village, Waikiki: Costco saved $308.76.
Accommodations.
Costco.com: 2,463.40
Hilton.com $2,701.76.
Savings: Costco saved 12%
Shuttle to/from airport.
If you choose to use a shuttle to the hotel and back (viable in Honolulu, especially since Hilton charges from $55 to $65 per day for parking).
Costco.com included at no charge. Costco also provides free lei greeting.
Speedyshuttle.com $70.40.
Savings: $70.40.
Optional Compact car rental (not included in savings calculation).
Costco.com Alamo compact car $510.13
Kayak.com Hertz compact car: $290
Savings: -$220.13 (Costco costs more as they don't respond as quickly to market changes as the provider).
Total savings $308.76
2. Residence Inn, Wailea Maui. Costco saved $1,276.28.
Accommodations.
Costco.com #3,906.72 (4,166.72 -$261 Costco gift card, and -40.50 to downgrade to compact car).
Marriott.com  $4,893 (or $4,649 if prepaid).
Savings: Costco saves 20%
Compact car rental.
Costco.com included at no charge.
Kayak.com Hertz compact car: $290
Savings: $290.00
Total savings $1,276.28
3. Royal Sonesta Kauai Resort (previously Marriott), Lihue Kauai. Costco saved $2,629.25.
Accommodations.
Costco.com $2,358.75 ($3,451.75 -$191 Costco gift card, -$100 food credit, -$201 resort fee, and downgrade car to compact).
Sonesta.com $4,601.
Savings: Costco saves 49%
Compact car rental.
Costco.com included at no charge.
Kayak.com Dollar compact car: $387
Savings: $387.00
Total Costco savings: $2,629.25
So just how much can you save in total on a Hawaii vacation with Costco.
1. Accommodations. Savings varied greatly, but in every case we checked, Costco Travel was lower priced to a greater or lesser degree. We checked prices both on the official hotel website as well as at Expedia, Priceline, and others. At Royal Sonesta on Kauai, the accommodation savings amounted to a whopping 49%.
2. Costco Hawaii vacation package bonuses. We calculated these into the savings shown. Those include gift cards, resort credits, free airport transfers, and free Hawaii car rentals.
3. Additional Costco savings not calculated. There's also the 2% reward you can get based on an executive ($120) annual Costco membership and an additional 3% savings on travel when using a Costco-branded Visa card.
4. Things to check. Refund and cancelation policies. This varies by location and provider. Frequently, the Costco Travel terms such as cancelation policy, were better.
Bottom line. The savings we found on Costco Travel, were better than expected, and make sense even if you aren't already a Costco member.
We welcome your input.
Disclosure: We receive a small commission on purchases from some of the links on Beat of Hawaii. These links cost you nothing and provide income necessary to offer our website to you. Mahalo! Privacy Policy and Disclosures.