Anyone that's spent their fair share of time on the road or internationally globetrotting is no doubt well aware of the advantages offered by packing cubes. While once a fairly niche product space, the packing cube segment has exploded in recent years as more and more companies and consumers have both discovered the myriad of benefits afforded by these items. And while its rise in popularity has given way to more options available than ever before, the sheer number of models on the market can also make it extremely difficult to hone in on the few standout offerings that this segment contains — the latest and greatest of which we'll be counting down today in this guide to the best packing cubes for travel. 
Packing Like A Pro
The Main Benefits & Advantages Of Packing Cubes
Packing cubes come with several key benefits and advantages over simply tossing your clothing or gear into a backpack, duffel, or piece of luggage. For starters, packing cubes keep clothing neatly folded, allowing them to look their best even after hours of being in transit. Additionally, packing cubes also not only make it easier to organize and pack a backpack or travel bag, but they also make it markedly more convenient to remove items from a carry solution, being able to locate and remove a single packing cube — and the clothing or items it contains — without making a mess out of the rest of the bag's contents. Lastly, on top of keeping clothes looking crisp and wrinkle-free — whether they're folded or rolled — packing cubes also allow one to ultimately make the most of a bag's internal real estate, fitting in a larger number of items thanks to everything being neatly packed down and the packing cubes' ability to "Tetris" into a piece of luggage. 
Packing Cube Qualities
The 3 Most Important Factors To Look For When Buying
Unlike feature-laden everyday carry bags and travel backpacks, packing cubes tend to be a fairly straightforward affair where what you see is what you get. With that said, there's nonetheless a trio of areas that one should be privy to when shopping for a new packing cube or cubes. Below, we'll briefly touch on the three most pivotal factors to take into consideration before making your purchase. 
Size: Just like with the suitcases, pieces of luggage, duffels, and backpacks that they fit inside of, packing cubes can hugely vary in size. Because packing cubes are all about optimizing the efficiency of packing, it's also important to review the size of a bag's main compartment in order to determine how many packing cubes can fit. Alongside the outward dimensions of a packing cube (width, height, length), it's also crucial to review a packing cube's total storage volume — an area that's typically measured in liters. Additionally, it's also worth pointing out that, on top of sometimes being sold in sets, some packing cube models are sold in multiple size options. 
Shell Construction: The material used for a packing cube's shell construction will determine both its overall durability and its ability to stand up to the elements. On top of the shell construction, it's also worth exploring the type of material used for a packing cube's liner. What's more, some shell constructions have also been supplemented via expandable/compressible shell setups, breathable mesh panels, and transparent windows that make it markedly easier to identify the contents of a packed cube. 
Closure & Hardware: Ultimately, the overall quality and user experience one will have when using a packing cube boils down to a given model's closure setup and hardware nearly as much as it does the type of materials used. When reviewing this area, you'll want to check out the type of opening system a packing cube utilizes (such as a clamshell setup, which is the most common configuration) as well as how the closure is secured, which means looking into the type of zipper or hardware that's being utilized.
Organization Optimizers
The 5 Best Packing Cubes Currently On The Market
Aer Packing Cube
Best Lightweight Pick: Tipping the scales at just 0.25lbs, the plainly-named Aer Packing Cube is a 12" L x 10" W x 3.75" D item that's both water resistant and incredibly lightweight. Constructed around a 70-denier ripstop nylon shell, this packing cube features a mesh panel that affords the vessel breathability, while also making it a breeze to identify the contents within the cube. Decorated via an Aer logo tag, this packing cube also comes outfitted with two-way YKK Japanese zippers. 
Volume: 10.9 Liters
Shell Material: 70D Ripstop Nylon
Closure: YKK Japanese Zippers
DSPCH Packing Cube
Best Minimalist/Streamlined Pick: Backed by a lifetime warranty, the DSPCH Packing Cube is a minimalistic model that features a full, zipper-lined clamshell opening and a ventilated top panel. Offering roughly 7.6 liters of storage space, this packing cube also boasts a durable shell made from ballistic nylon. Completely devoid of any branding, this blacked-out item also comes outfitted with a nylon webbing grab handle. 
Volume: 7.6 Liters
Shell Material: Ballistic Nylon
Closure: Zipper
Topo Designs Pack Bag 10L Cube
Best Sustainable Pick: Sold in black, olive, or navy color options, the Topo Designs Pack Bag 10L Cube is a sustainably-focused item that features a 400-denier nylon pack cloth shell that's been derived entirely from recycled materials and manufactered using Fair Wear-certified production. Measuring 10″ W x 7″ H x 6″ D, this packing cube also features YKK zippers with Paracord pulls, a U-shaped main opening, and webbing pull handles. 
Volume: 10 Liters
Shell Material: Recycled 400D Nylon Pack Cloth
Closure: Heavy-duty YKK Zippers
Peak Design Packing Cube Medium
Best Divided Compartment Pick: While it is more costly, the medium-sized Peak Design Packing Cube offers a major step up in terms of features and amenities. Protected by a lifetime warranty, this cube features a shell composed of a self-healing weatherproof ripstop 70-denier nylon and poly shell with an abrasion-resistant coating. This model also sports top and bottom handles, a moving auto-adjusting divider, a tear-away main opening, Ultra-Zips zippers with abrasion-resistant UHMPE thread, and 8 liters of storage space when compressed, or up to 18 liters of space when expanded. 
Volume: 8 Liters (Compressed, or 18L Expanded)
Shell Material: Coated Recycled Ripstop 70D Nylon Poly Blend
Closure: UltraZips Zippers
Hyperlite Mountain Gear Pod Packing Cube
Best Ultra-Tough/Rugged Pick: Equal parts lightweight and hardwearing, the Hyperlite Mountain Gear Pod Packing Cube is an adventure-grade take on the product space that boasts a Dyneema Composite Fabric 11 shell with fully-taped seams. Equipped with almost 7 liters of storage space, this packing cube is also packable and stackable, plus is heavily resistant to water. Hyperlite has also bestowed this Dyneema construction packing cube with a clamshell design and a water-resistant zipper. 
Volume: 6.9 Liters
Shell Material: Dyneema Composite Fabric
Closure: Water-Resistant Zipper
Worthwhile Runner-Ups
7 More Stellar Packing Cube Options
Black Ember Packing Cube Large
Made from a combination of 70-denier nylon, HYPALON, and expandable and breathable elastic mesh, the large-sized Black Ember Packing Cube is a flexible, 12-liter vessel that boasts a laser-cut construction, TPU edges, and ultra-smooth YKK racquet coil zippers. 
Volume: 12 Liters
Shell Material: 70D Nyon
Closure: YKK Racquet Coil Zippers
Mystery Ranch Zoid Cube
Available in five color choices and in 4, 8.3, or 14.5-liter sizes, the Mystery Ranch Zoid Cube is another rugged yet lightweight pick that sports a 210-denier Hitra Robic nylon shell with a Monomesh lid, #8 YKK zippers, and both, top and side carry handles. 
Volume: 4 Liters (or 8.3L or 14.5L)
Shell Material: 210D Hitra Robic Nylon
Closure: #8 YKK Zippers
GORUCK Packing Cube
Offered in 10-liter and 20-liter sizes, the GORUCK Packing Cube is another rugged model that features a zippered mesh interior, two-way zippers, and a hook and loop patch. Pieced together around a shell made from 200-denier nylon, this packing cube was designed to pack flat, minimizing its footprint when not in use.
Volume: 10 Liters
Shell Material: 200D Nylon
Closure: Two-Way Zippers
YETI Crossroads Packing Cube
Produced in a trio of sizes, the YETI Crossroads Packing Cube is a machine-washable, 9-liter item that boasts an expansion zipper system with YKK Zippers, a top grab handle, a three-year warranty, and a durable ripstop nylon shell.
Volume: 9 Liters
Shell Material: Ripstop Nylon
Closure: YKK Zippers
HEIMPLANET Carry Essentials Packing Cubes Set
Designed to fit next to each other in a larger bag, the HEIMPLANET Carry Essentials Packing Cubes Set is a three-item bundle that consists of a 4-liter cube and two 2-liter cubes — all of which feature shells made from 300D x 150D polyester Dyecoshell fabric. Color-coded using dope-dyed fabric, this packing cube set also sports YKK zippers.
Volume: 4 Liters 2 Liters,& 2 Liters
Shell Material: 300D x 150D Polyester Dyecoshell Fabric
Closure: YKK Zippers
Patagonia Black Hole Cube Medium
Constructed around an 8.7oz 300-denier recycled polyester ripstop shell that's both TPU-film laminated and PU-coated, the Patagonia Black Hole Cube Medium is a feature-rich, weather-resistant 6-liter clamshell model that comes loaded with exterior daisy chain webbing, a large grab handle, plastic zipper sliders, and a divided main compartment with zippered mesh pockets. This model also boasts a PU-coated 3.3oz 200-denier recycled polyester liner that, like the exterior shell, has also been DWR-treated. 
Volume: 6 Liters
Shell Material: DWR-Treated & TPU-Coated 300D Recycled Polyester Ripstop
Closure: Zippers
Triple Aught Design Transport Cube Viewport Large
Another insanely rugged choice, the large-sized version of the Triple Aught Design Transport Cube Viewport Large is a 9.2-liter bag that features a shell composed of ultra-hardwearing X-Pac VX21 fabric. Also sold in a smaller 4.3-liter medium size, this packing cube is built to Mil-Spec construction standards, can be secured to Helix, MOLLE, and PALS webbing, and sports a PM02 window and a YKK-zippered clamshell opening that together make it easy to identify and remove the packing cube's contents. 
Volume: 9.2L (or 4.3L)
Shell Material: VX21
Closure: YKK Zippers
Honorable Mention:
One Final Runner-Up
Tom Bihn Packing Cube Shoulder Bag
Offering 4.5 liters of storage space, the Tom Bihn Packing Cube Shoulder Bag puts a versatile spin on the segment with a packing cube that can also double as a daily-carry bag when on the go. Equipped with #8 YKK water-repellent racquet coil zippers with rubber-coated pulls, Duraflex, Nexus, and Woojin buckles, a removable shoulder strap, and a triple O-ring design, this item also sports a 210-denier high tenacity 2×2 ballistic nylon shell. 
Volume: 4.5 Liters
Shell Material: 210D HT 2×2 Ballistic Nylon
Closure: #8 YKK Water Repellent Racquet Coil Zippers
The Best Travel Backpacks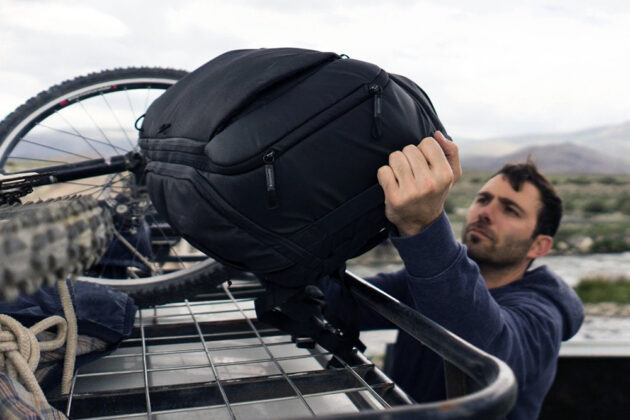 Now that you've got your packing cube situation all squared away, you'll likely want to get your hands on a quality bag to house your new cubes, and our guide to the best travel backpacks contains a handpicked selection of carry solutions that have been designed from the ground up for the modern globetrotter.